The financial crisis and associated austerity has caused more need than ever for Open Spending. Governments have a wealth of financial information and records. Budgets, annual reports, income, expenditure and revenue provide management information and accountability.
In 2013 the Open State Foundation started Open Spending by releasing the finances of one of the districts of Amsterdam. In 2014 Open State Foundation approached hundreds of local and regional governments for the same data. In 2015 with support from the Ministry of Interior, Open State's work resulted in the sustainable publication of financial data of all Dutch regional and local governments.
Annual and quarterly spending and budgets
Data includes annual and quarterly budgets and expenses of almost 400 municipalities, 12 regional governments (provinces), the water boards and more than 100 common governmental arrangements (public and private cooperations). The data has been released as open data which gives users the opportunity to build apps with the data and do their own calculations. This machine-readable data gives insight in the income and expenditure, planned and realized, of all Dutch local and regional governments. The free availability of this information strengthens the information position of representatives, journalists and citizens.
Detailed Open Spending data
Since this data is released on an aggregated level, Open State also started to help governments release detailed Open Spending data. Access to this type of data not only helps municipalities to spend public funds more efficient but also helps council members to find budgets for alternative proposals.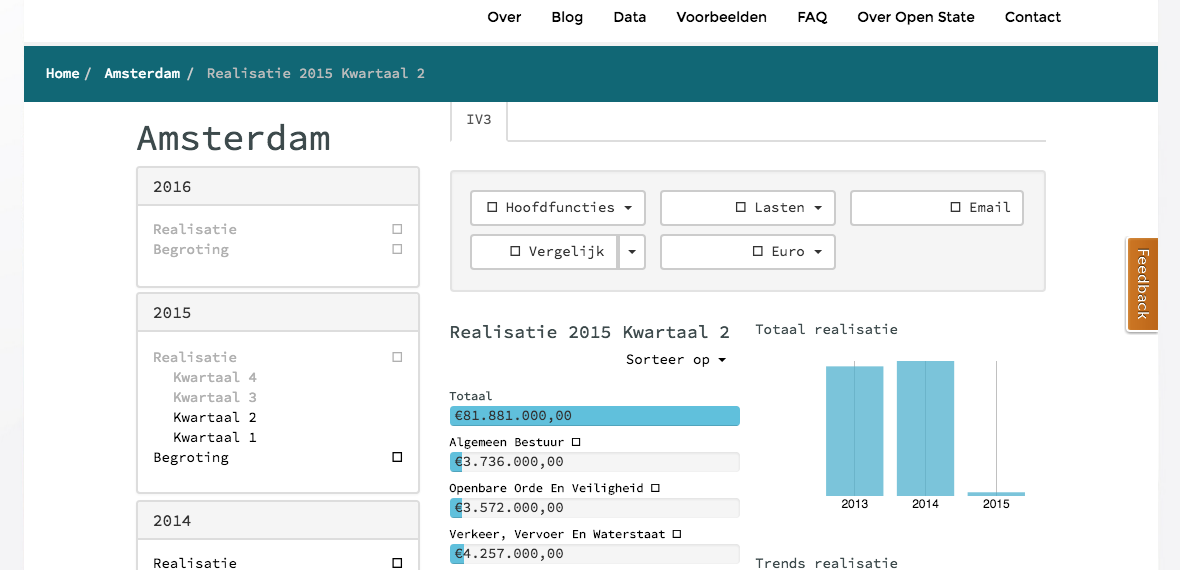 Open Government Partnership Award
Open State Foundation was one of the winners of the OGP Awards 2016 at the Open Government Partnership Global Summit in Paris.