Statistics Netherlands (CBS) and Open State Foundation started a pilot to exchange financial data of local governments in a new way. Currently, local governments send Excel-files following, using the Iv3-standard, to CBS with their budget and reports. This new pilot investigates the possibility of using a new data-format, the option to include more detailed financial information and the option to automatically pull the data instead of sending it to CBS. 
Municipalities, provinces and water boards share their financial information via the Iv3-format. This data gives insight in the financial position of governments. Since 2015 this information is also available as open data with re-users like WaarStaatJeGemeente.nl, financiengemeenten.nl and openspending.nl of Open State Foundation. City councillors, journalists and researchers use this information for their work.
Pilot for future exchange  
CBS and Open State Foundation started the pilot for the Dutch Interior Ministry. The Dutch Association of Municipalities and Provinces are involved on behalf of local governments. The goal is to investigate how the exchange of Iv3-information can be improved in the future by experimenting on three aspects:
Collection method: CBS will investigate the option of collecting the data instead of letting the governments send in the data via e-mail. This will reduce administrative burden for all involved parties.
File format: CBS investigates the possibility of using JSON instead of Excel for exchanging the financial data. This new format ought to increase efficiency for involved parties.
More detailed information: By providing more detailed information the data quality can be improved. At the same this provides more transparency. Governments can choose on a voluntary basis if they wish to provide more detailed information.
Governments can sign up for pilot
To test what the chances these three improvements offer CBS and Open State Foundation are looking for governments that want to sign up for this pilots. Governments can try one or more aspects of this pilot under the guidance of CBS and software suppliers. These experiences will be evaluated afterwards by the participants.
Future Open Spending Detaildata
Open State Foundation started collecting Open Spending Detaildata in 2015. Evaluating openspending.nl with council members, civil servants and journalists showed that they would like to have more detailed and contextualized financial data than was currently provided with Iv3. Open State Foundation started Open Spending Detaildata with the province and municipality of Groningen in 2015, by releasing more detailed financial data on openspending.nl directly from their financial software. Fifteen local governments participate in Open Spending Detaildata. However, releasing this information is not scalable because it is time consuming and sensitive to errors due to a lack of standardization.
Open State Foundation has decided to stop with the current way of releasing Open Spending Detaildata. The pilot with CBS offers a good chance to release detailed financial information on a scale-able and standardized manner. When the pilot is successful the detailed financial information can be shared via the open data portal of CBS and visualized via openspending.nl.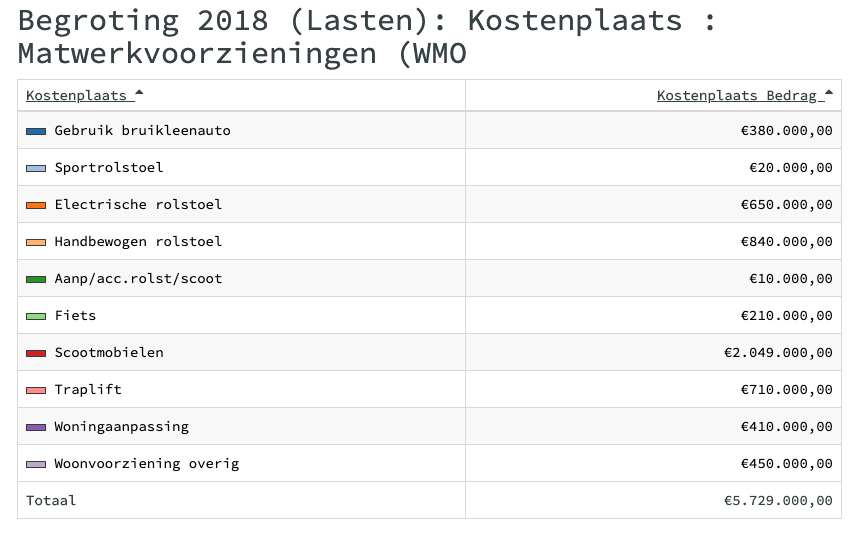 More information CBS website Pilot iv3 (Dutch)