ILP Lab of the University of Amsterdam has performed a comparative study on the opennesses of the (proposed) implementation of UBO registries in The Netherlands, Denmark and the United Kingdom. Of these three countries, The Netherlands has the most restrictive access to the registry that they mandatory to implement based on the Anti-Money Laundering Directive. 
"We argue that to achieve the purpose of the EU Fourth Anti-Money Laundering Directive, which is to combat financial and economic crime by creating transparency about the UBOs of a company, it is more effective to establish the UBO-register without access restrictions, such as a paywall and registration duty, and with a possibility to search the register by name of the UBOs. This is also the viewpoint adopted by the United Kingdom and Denmark."
 Open State Foundation welcomes the study done by Sjoerd Peters and Gonnie Smelting on comparing the three proposed implementations, and we are happy to have contributed.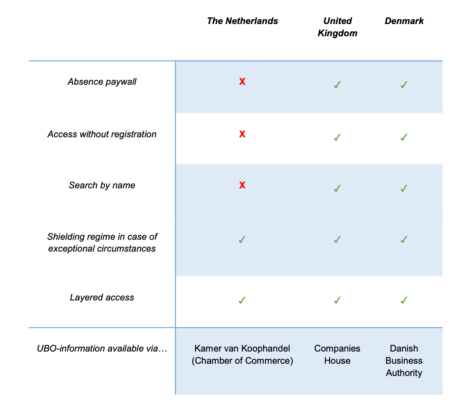 We hope that the Eerste Kamer, where the law regulating this registry is currently in the legislative process, will use the opportunity of missing the EU deadline of January 2020 by reconsidering the access restrictions as well as the faulty 'privacy by paywall' approach. 
They should look at what colleagues abroad have done to balance the rights of the UBO's by giving special cases an opt-out, as well as consider the power of societal access for fighting money-laundering and corruption. 
You can download the study here: ILP Lab – Ensuring the effectiveness of the UBO-register by making it publicly available with fewer access restrictions
Image: Jonge vrouw neemt geld aan van een man, Pieter Schenk, naar Jacob Toorenvliet, 1670 – 1713 (Public Domain, via Rijksmuseum)