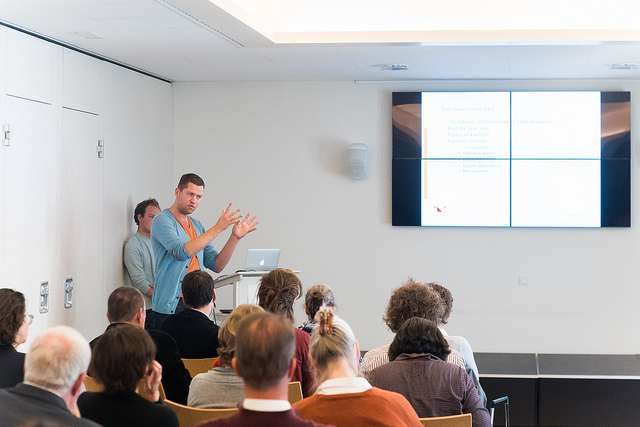 How does the future of re-use of government and archive information look like? On the 6th of October the results of a survey were presented at the Dutch National Archives in The Hague. The survey was carried out by the Open State Foundation for Archief 2020. The goal of the survey was to find out what chances re-users see when it comes to open data, which barriers they come across when accessing or reusing data and finding out how these barriers can be lifted.
For the report 11 people were interviewed and 30 people filled in an online survey. The respondents are developers, archives, journalists, governments, universities, NGO's and data-scientists. The report can be found here (Dutch) and resulted in eight recommendations from the respondents.
Eight recommendations
• Present your data to re-users
• Show your data-inventory. Let re-users see which data you own and which data can be released digitally or as open data. If data cannot be released also state this and explain why
• Keep in contact with (potential) re-users of your data. Be available for questions
• Learn from the informational needs of your re-users, it helps your prioritize and use their feedback on your data and the way you release it
• Work 'open by design' for durable access. When information is created state if it is public information. This helps releasing information
• Make somebody within your organization responsible for transparency. Who is the go-to person and who is responsible for improving transparency
• Use standards. Using standards make data more comparable and greatly improves ease of re-use
• Get expertise within your own organization on topics regarding open data.
Links to report and photo's
Read the full report on the presentation here and on Flickr you can find all photo's taken at the presentation. The report that resulted from the survey can be found here (Dutch).