By using the Open Culture Data API-RSS-Feed you can easily change your Windows-computer into an art museum.This app will show you a different art piece every 30 minutes. This app is available for Windows 7 and 8.1 and for Mac.
For Windows 7 and 8.1
Step 1: Open Notepad
Step 2: Copy the text from GitHub Git to Notepad.
Step 3: Save the file as RSS_OCD_API.theme. Save as `€œAll files`€.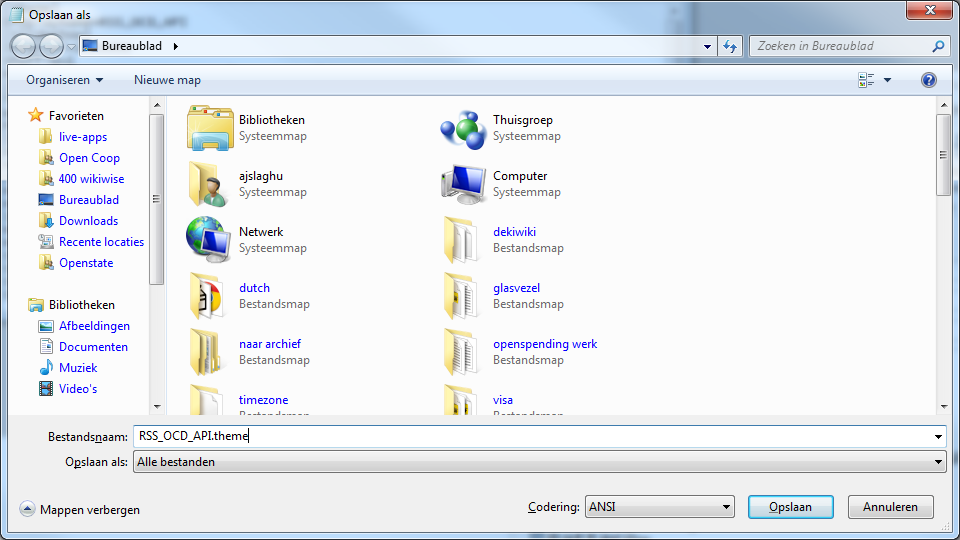 Step 4: Open RSS_OCD_API.theme
Step 5: Click Start -> Control Panel. Search for Personalization. Double click RSS_OCD_API.
Step 6: Select all files and save.
Mac
Step 1: Download this file.
Step 2: Extract the .zip file by clicking it.
Step 3: Right click or click with two fingers on OCD_English. Click open.
Step 4: A warning appears. Click `€œOpen`€.
Step 5: Choose a download location for the OCD-files. A new folder will be created.
Step 6: A message appears. You can click OK and follow the progress by clicking the gear in the taskbar.
Step 7: A window with Desktop & Screen Saver appears. You can tweak some of the wallpaper settings here.